Email Template
The system has a built in template it uses to send email which ensures a consistent look and feel for all email leaving the system.
The email administrator may choose to define their own mail format if they wish to do so. Clicking the Email Template tab and will be present you with the following screen.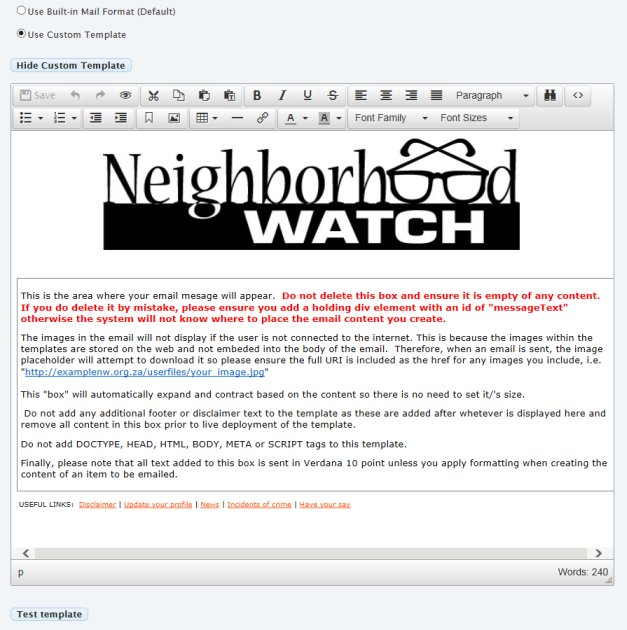 In order to define your own template, click the Show Custom Template button which will open the HTML text editior with a custom template already there as an example.
Before you make any amendments to the custom template you are advised to click the Test Template button beneath the text editor. The system will then send you an email of the current template along with the predefined footer and disclaimer text so that you may see what it looks like before you make any changes.
You may make any changes to the custom template you wish. There are however a few rules that need to be observed;
You must retain a block level element with an ID of messageText. The element may be a div or p or any other block level element you wish to use.
Do not use CSS or the style attribute to set the height of the messageText element.
If you use images within the format, ensure you put the full path to the image in the src attribute of the image so that the receiving email program knows where to download the image from.
The same applies to any hyperlinks you add that point to documents or pages on the website.
Remember the email footer and disclaimmer text are still going to be attached to the email. If you do not want this, you must remove the text from the editiors in the Email Footer and Email Disclaimer tabs and save them.
Do not add DOCTYPE, HEAD, HTML, BODY, META or SCRIPT tags to this template or it will become badly formatted and will quite possibly be rejected as spam by the reipients ISP's mail server.
The text formatting is defaulted to Verdana 10pt and you must specifically change this if you want a different formatting.
Once you have made and saved your changes to the template, resend the email using the Test Template button and once you are comfortable with the template, you may set it as the active mail format by checking the Use Custom Template radio button at the top of the screen.